About the Lake Simcoe Open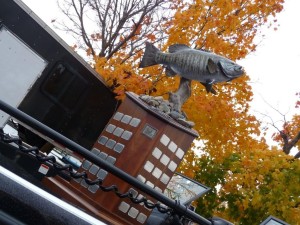 About the Lake Simcoe open and the Aurora Bass Masters.
Lake Simcoe Open has fast become Canada's premier one-day bass fishing tournament! Known for its record setting weights and monster smallmouth bass, this has truly become a must-fish event for competitive bass anglers across the country.
In 2001, the Aurora Bassmasters, a member club of the Ontario Bass Federation, set out to establish a late season tournament that would capture the scope of the Lake Simcoe fishery. Ultimately, their goal would be for the event to highlight the record-size smallmouth bass during the fall bite.
It's important to note that the club also wanted to 'give something back' to this great fishery by utilizing the tournament as a platform to spearhead some much needed bass fisheries research. In cooperation with the Ministry of Natural Resources' Community Fisheries & Wildlife Improvement Program and a partnership with the lab of Dr. Bruce Tufts at Queen's University, the award-winning Lake Simcoe Bass Tagging Research Project has been an integral component of the tournament since 2005.
The format and theme of the Lake Simcoe Open hasn't changed over the years. In fact, like a fine wine, it has matured with age. The tournament was originally known as the Crackle Cup; however, the club knew that in order to bring the event to greater heights they needed to expand their horizons.
In 2007, the Aurora Bassmasters entered into a partnership agreement with Bass Pro Shops Canada, Inc. which set the stage for things to come. As Title Sponsor, this led to new opportunities both within the framework of the tournament itself and marketing the emerging merits of its stature in the tournament arena as a whole. With a focus on angler incentives and by capitalizing on the potential of this amazing fishery, commitments from high level sponsors soon followed. It has become well accepted by the community at large and the level of interest expressed by all levels of tournament anglers, both in Canada and the United States, continues to grow. Those who have competed at the Bass Pro Shops Lake Simcoe Open consider it a merit badge all its own!
Thank you for your interest in our event. If you have any questions or concerns, please do not hesitate to contact us.