Jack Link's and Aurora Bass Masters
want to congratulate:
Jason Clay and Matt Belzil!
2017 Jack Link's Lake Simcoe Open Champions!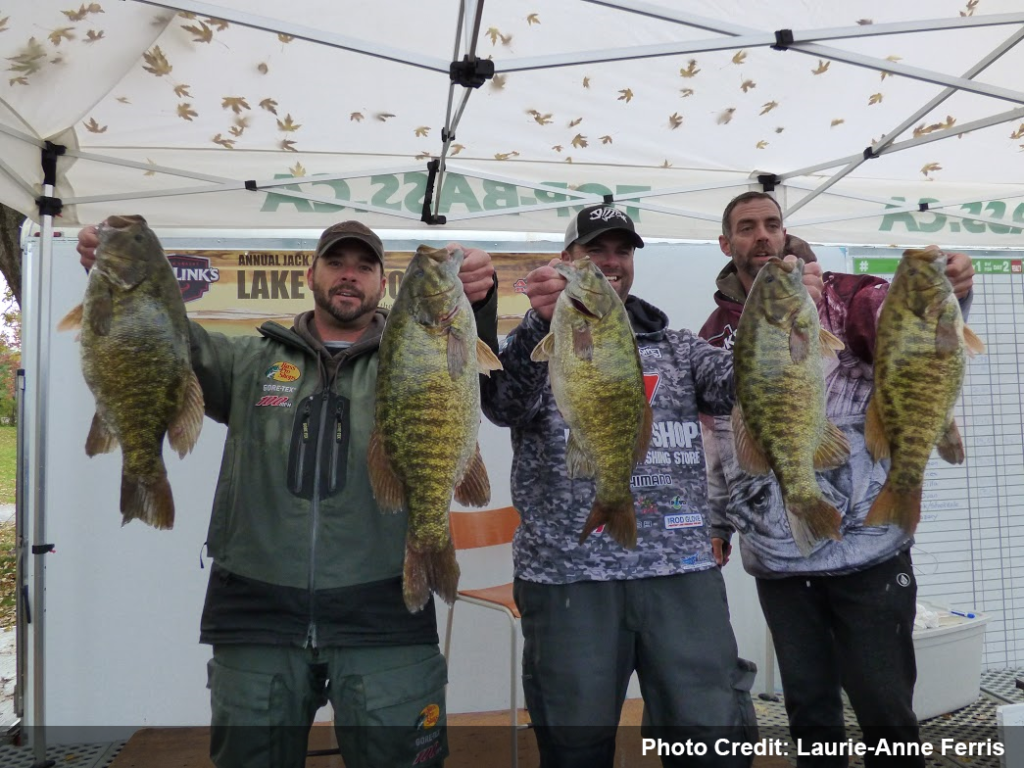 Congratulations guys! We welcome you both as you join an exclusive group and become a part of our tournament's history.
A Message from the Aurora BassMasters:
On Saturday October 28, 2017 in Orillia Ontario, The Aurora Bassmasters Hosted one of Canada's Premier One Day Bass Fishing Events.
The Jack Link's Lake Simcoe Open!
47 teams braved the tough rain and weather conditions for a chance at being 1st place winners of our Lake Simcoe Open! Jason and Matt braved the wind and rain to push the scales over the previous Canadian Record to 31.80 lbs with 5 Big Smallmouth Bass! Way to go guys! Close on their heels was a very respectful weight by Ryan and Callum Johnson with 30.86 lbs. In third place was Sebastien Roy and Steve Rowbotham with 30.13 lbs! It was a very impressive podium with the first three teams all weighing fish over 30 pounds! After 16 years, the Aurora BassMasters are still hosting this event but is only made possible with the very Generous Sponsorship and Donations made for our anglers. We at Aurora Bass are very proud to be a part of this tournament,  it's always promised to be a great time for all our anglers.   We've seen many great things over the last 16 years, including many records being broken! We look forward to continuing hosting this event for many more years to come. To everyone who was a part of our event, thank you for making this tournament a great success every year! With the support of our sponsors, dedicated anglers and volunteers, the best is yet to come.
Final Team Positions
Pos. #
Boater Name
Co-Angler Name
Weight
Prize Money
Contingency Prizes
1
Jason Clay
/
Matt Belzil
31.80
$7,800.00
2.5 gal. Quicksilver Oil from Top Gun Marine
2
Ryan Johnson
/
Callum Johnson
30.86
$3,100.00
2.5 gal. Quicksilver Oil from Top Gun Marine
3
Sebastien Roy
/
Steve Rowbotham
30.13
$2,300.00
Maple Toyota Contingency Prize
4
Matt Holland
/
Pat Campbell
28.60
$1,500.00
5
Chad Wentzell
/
Bailey,
27.35
$650.00
2 Duckett Rods & 2 Bosh Lazors Plus Yamaha Prize
6
Chris Vandermeer
/
T.J. Lacey
24.02
$500.00
2 Enigma Rods & 2 Bosh Lazor tape measures
7
Mark Moran
/
Doug Brownridge
22.57
$350.00
2 Duckett Rods & 2 tackle boxes
8
Patrick Larmour
/
Donnie Cilla
22.47
$200.00
2 Duckett Rods & ultra Tungsten tackle pack
9
Wayne Misselbrook
/
Rick Stockdale
22.32
2 $100 Keg Gift Cards provided by Perchin for MS
10
Tim Fernandes
/
Mike Quesnelle
21.50
2 Geiger Tec mounts Ram Mounts
11
Frank Rotundo
/
Roy Leuzzi
20.66
12
Oleg Lapidus
/
Phil Larizza
19.32
13
Andy Soan
/
John Shields
17.84
14
Doug Wadden
/
Doug Poirier
17.81
15
Terry Monaghan
/
Neil Deleeuw
17.52
16
Bob Kendall
/
Herb Quan
17.15
17
Bill Walker
/
Kal Vaisanen
17.10
18
Jamie Robinson
/
Justin Robinson
16.62
19
Tom Neville
/
Barry Graves
14.84
20
Will Litchfield
/
Elizabeth Litchfield
13.20
21
Jason Godin
/
Anthony Burgess
13.12
22
Jim Krech
/
Paul Molson
11.16
23
Johnny De Bartolo
/
Steve Basnicki
7.03
24
Matthew Alexander
/
Kieth Duster
4.78
25
Derek Strub
/
Mike Desforges
0.00
26
Bruce White
/
Steve Huber
0.00
27
Greg Amiel
/
Jacques Patry
0.00
28
Peter Savoia
/
Scott Murdison
0.00
29
Ken Robinson
/
Paul Bryn
0.00
30
Des Barnes
/
Brent Barnes
0.00
31
Mark Cavanaugh
/
Jamie Bradburn
0.00
32
Stephen Hegarty
/
Phillip Hegarty
0.00
33
Russ Watkins
/
Dave Chong
0.00
34
Jeff Turner
/
James Turner
0.00
35
Ben Sabourin
/
Rodney Deforest
0.00
36
Monty Cummings
/
Eric Cummings
0.00
37
Ryan Taylor
/
Eric Dixon
0.00
38
CONNOR MACLEAN
/
ANDREW PITTMAN
0.00
39
Peter Altomare
/
Matt Pezzetta
0.00
40
Jay Hayashi
/
Trevor Parker
0.00
41
Brian Gardy
/
Mike Reid
0.00
42
 Matt Raymond
/
 Jeff Zeisner
0.00
43
Mitch Levine
/
Joe Stephan
0.00
44
John Little
/
Jason Saliba
0.00
45
Paul Alessandrini
/
Marco Alessandrini
0.00
46
Joe Teofilo
/
Peter Hoang
0.00
47
Jay Hotzak
/
Jasper Zhang
0.00
Big Fish Winner
Boater Name
Co-Angler Name
Weight
Prize Money
1
Ryan Johnson
/
Callum Johnson
7.29
$940.00
2
Frank Rotundo
/
Roy Leuzzi
7.04
Contingency Prizes
Pos. #
Boater Name
Co-Angler Name
Weight
Contingency Prizes
1
Jason Clay
/
Matt Belzil
31.80
2.5 gal. Quicksilver Oil from Top Gun Marine
2
Ryan Johnson
/
Callum Johnson
30.86
2.5 gal. Quicksilver Oil from Top Gun Marine
3
Sebastien Roy
/
Steve Rowbotham
30.13
Maple Toyota Contingency Prize
5
Chad Wentzell
/
Bailey,
27.35
2 Duckett Rods & 2 Bosh Lazor tape measures Plus Yamaha Prize
6
Chris Vandermeer
/
T.J. Lacey
24.02
2 Enigma Rods & 2 Bosh Lazor tape measures
7
Mark Moran
/
Doug Brownridge
22.57
2 Duckett Rods & 2 tackle boxes
8
Patrick Larmour
/
Donnie Cilla
22.47
2 Duckett Rods & ultra Tungsten tackle pack
9
Wayne Misselbrook
/
Rick Stockdale
22.32
2 $100 Keg Gift Cards provided by Perchin for MS
10
Tim Fernandes
/
Mike Quesnelle
21.50
2 Geiger Tec mounts Ram Mounts